LOOKING TO HOST A PARTY? ​
---
Private Party Rooms Available​
Our Private Dining Room provides endless opportunities for an unforgettable experience – day or night. Let Aunt Butchies of Brooklyn craft your menu so your event is special and memorable. Our space is perfect for a business meetings, private dinners, baby or wedding showers or celebrating any special milestone. Whether you need a table for one or a table for one hundred or more, we have the facilities to host your event.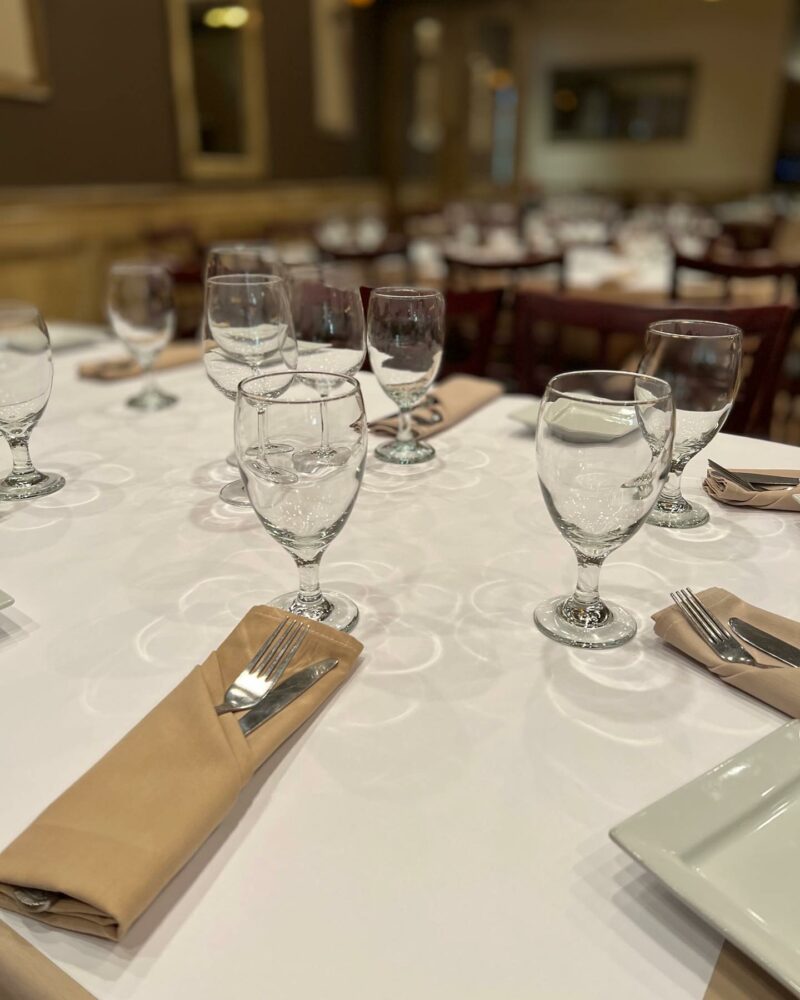 PARTY PACKAGES​
---
Click the buttons to learn more about each package.
Please Notify Us About Food Allergies
Classic Family Style​
---
FAMILY STYLE
PASTA or SALAD
(Choice of 2)
Rigatoni Eggplant with Fresh Mozzarella, Penne Vodka, Rigatoni, Aunt Butchie's Rigatoni Marinara, Caesar Salad, Italian House Salad
FAMILY STYLE ENTREES
(Choice of 1 Poultry, 1 Veal, 1 Fish)
Chicken Parmigiana, Chicken Limoncello, Chicken Marsala, Chicken Sorrentino, Veal Marsala, Veal Parmigiana, Shrimp Oreganata, Filet of Sole Oreganata
DESSERTS
Assorted Dessert Platters or Occasion Cake
BEVERAGES
Soft Drinks, Coffee and Tea
WEEKDAYS
$41.52 cc $39.95 Per Adult cash discount $28.01 cc $26.95 per child cash discount (plus tax and gratuity)
WEEKENDS
$51.92 cc $49.95 Per Adult cash discount $28.01 cc $26.95 per child cash discount (plus tax and gratuity)
ADD BEER, WINE SANGRIA
$18.71cc $18.00 Per Adult cash discount (plus tax & gratuity)
ADD-ON ESPRESSO & CAPPUCCINO
$4.15 cc $4 pp
Classic Parties are 2 ½ hours. Prices are subject to change & expire on 12/31/23
2.95% Fee Implemented for Credit Cards

​
Famous Family Style​
---
FAMILY STYLE APPETIZERS
(Choice of 3)
Eggplant Caponata | Italian Eggrolls | Italian House Salad | Fritto Misto | Baked Clams | Stuffed Meatballs | Margherita Pizzas
​​
FAMILY STYLE PASTA
FAMILY STYLE ENTREES
Chicken Limoncello, Eggplant Parmigiana, Shrimp Oreganata, Sliced Filet Mignon with Portobello Mushrooms & Port Wine
FAMILY STYLE DESSERT PLATTERS
Assorted Dessert Platters or Occasion Cake
BEVERAGES
Soft Drinks, Coffee and Tea
WEEKDAYS
$57.12 cc $54.95 Per Adult cash discount $28.01 cc $26.95 pp cash discount per child (plus tax and gratuity)
WEEKENDS
$67.51 cc $64.95 Per Adult cash discount $28.01 cc $26.95 pp cash discount per child (plus tax and gratuity)
ADD ON BEER, WINE & SANGRIA
$18.71 cc $18.00 Per Adult cash discount (plus tax & gratuity)
ADD ESPRESSO & CAPPUCCINO
$4.15 cc $4 pp
(plus tax and 20% gratuity)
All Parties are 3 hours. Prices are subject to change & expire on 12/31/23. 2.95% Fee Implemented for Credit Cards
Prices are subject to change without notice
Bar Package​
---
WINE BY THE BOTTLE
20.79 Cash Discount $20 per bottle (750mL)
Each Table starts off with 1 bottle of White and 1 bottle of Red
All additional bottles will be charged per consumption
​​
IMPORTED & DOMESTIC BEER, WINE BY THE GLASS & SANGRIA
$18.71 Cash Discount $18 per person
​​
3 HOUR PREMIUM BAR
$47.77 Cash Discount $45.95 per person
Shots not included, limited to 3 hours, premium liquor only
Does not include Single malt Scotch, Conac, High End Tequila, Ciroc, Belvedere Vodka
​​
3 HOUR TOP SHELF BAR PACKAGE
Includes all of the above
$62.32 Cash Discount $59.95 per person
​​
CHAMPAGNE TOAST
$4.16 Cash Discount $4 per person
Price per Adult Entrée. Automatically Increases Upon Bar Package Choice
Prices are subject to change & expire on 12/31/23. 2.95% Fee Implemented for Credit Cards
Prices are subject to change without notice

​​
Party Extras
---
FAMILY STYLE APPETIZERS
20.79 $4.16 Cash Discount $4/choice/person
Baked Clams – Fried Zucchini – Fried Calamari – Tortelloni Osso Bucco – Eggplant Rollatini -Stuffed Meatballs – Mozzarella & Tomato – Mozzarella Carrozza – Fritto Misto – Mini Riceballs (contains pork)
​​
CAPPUCCINO & ESPRESSO
$4.16 | Cash Discount $4 per person
If not added on at time of contract individual cappuccino & espresso
$6.50 each
​​
COOKIE PLATTERS
$32.00 Cash Discount 33.26 – 2lb. platter
​​
PASTRY PLATTERS
Priced based upon assortment
​​
BALLOONS
Custom Balloons & Event Décor Available
Prices are subject to change & expire on 12/31/23. 2.95% Fee Implemented for Credit Cards
Prices are subject to change without notice
​​